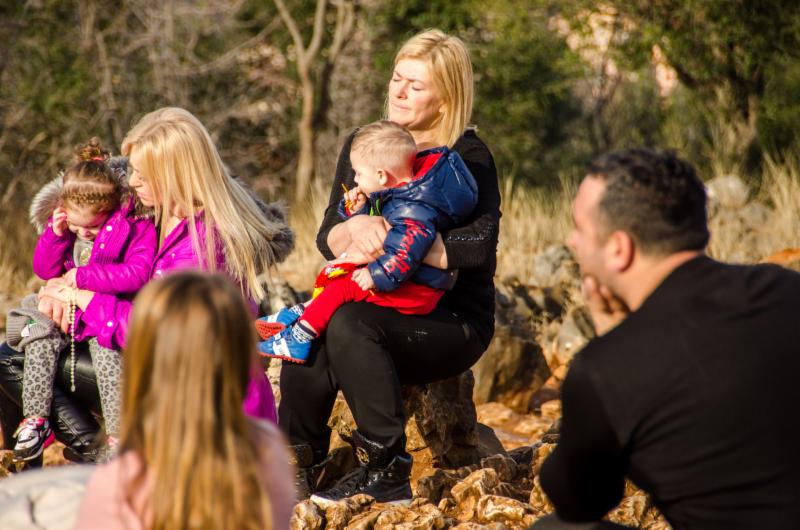 (c) Mateo Ivankovic 2017
J.M.J.
February 24, 2017
Dear Family of Mary!
Our Lady came to Medjugorje to call not just 6 visionaries, but an entire parish. Her call was to the families of the parish. She wanted the families to become communities of holiness so that she could work through them to minister to the millions of pilgrims that would be coming to their village.
She asked the parishioners to pray in the families. It was important to her that each family pray together.
Thursday, October 20, 1983 -For the parish:
"Have all the families consecrate themselves to the Sacred Heart each day. I am very happy when the entire family meets to pray each morning for half an hour."
Friday, January 27, 1984
"Pray and fast. I wish that you deepen and continue your life in prayer. Every morning say the prayer of consecration to the Heart of Mary. Do it in the family. Recite each morning the Angelus, 5 Our Father's, Hail Mary's, and Glory Be's in honor of the Holy Passion and a sixth one for our Holy Father, the Pope. Then say the Creed and the prayer to the Holy Spirit. And, if it is possible, it would be well to pray a Rosary."
She also made it clear that the family prayer would help her mission to be successful:
September 27, 1984 "Dear children! You have helped me along by your prayers to realize my plans. Keep on praying that my plans are completely fulfilled. I request the families of the parish to pray the family rosary. Thank you for having responded to my call."
Finally, Our Lady began to teach all families through her messages. She wanted the families of the parish and families of the pilgrims to be witnesses to the world of the reality of God and His love:
October 25, 2004 "Dear children! This is a time of grace for the family and, therefore, I call you to renew prayer. May Jesus be in the heart of your family. In prayer, learn to love everything that is holy. Imitate the lives of saints so that they may be an incentive and teachers on the way of holiness. May every family become a witness of love in this world without prayer and peace. Thank you for having responded to my call."
December 25, 2006
The apparition began at 3:23pm and lasted six minutes. Our Lady gave the following message:
"Today is a great day of joy and peace. Rejoice with me. Little children, in a special way, I call you to holiness in your families. I desire, little children, that each of your families be holy and that God's joy and peace, which God sends you today in a special way, may come to rule and dwell in your families. Little children, open your hearts today on this day of grace, decide for God and put Him in the first place in your family. I am your Mother. I love you and give you my Motherly Blessing."
July 24, 1986 "Dear children! I rejoice because of all of you who are on the way of holiness and I beseech you, by your own testimony help those who do not know how to live in holiness. Therefore, dear children, let your family be a place where holiness is birthed. Help everyone to live in holiness, but especially your own family. Thank you for having responded to my call."
Our Lady is very aware that it is Satan's plan to destroy the family. And so she has been coming to strengthen our families as a bulwark against Satan's plan. She started in the parish, and has moved out to the families of pilgrims from all over the world. We are now all part of her plan for peace. Our families are important. Our family prayer is important. The faith in our families will be a key element in her Triumph.
May we continue to fight for prayer in our families so that we can help Our Lady to win in this gigantic struggle with the enemy. She needs us, gathered as families, to respond to her call.
In Jesus, Mary and Joseph!
Cathy Nolan
©Mary TV 2017