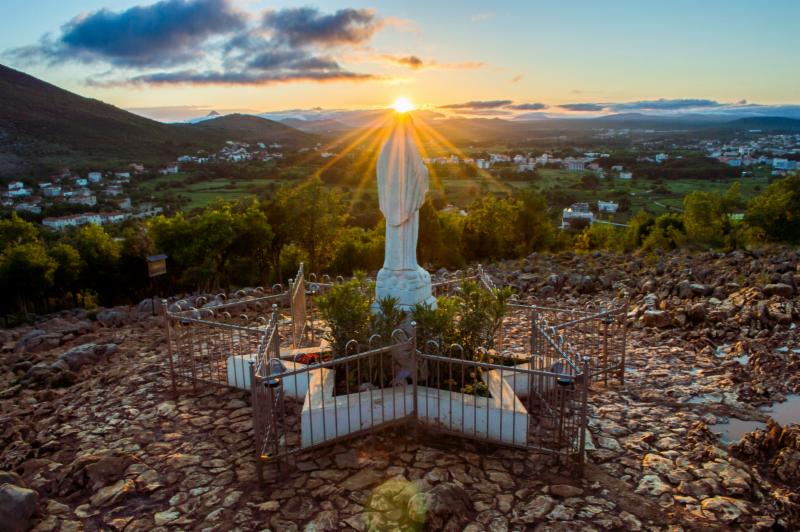 (c) Mary TV
J.M.J.
June 23, 2020
39th Anniversary Novena – Day Nine
Dear Family of Mary!
In Fatima Our Lady promised that "in the end, my Immaculate Heart will triumph". In Medjugorje she has told us "I invite you to self-renunciation for nine days so that, with your help, everything that I desire to realize through the secrets I began in Fatima, may be fulfilled" (August 25, 1991). The Triumph of the Immaculate Heart of Mary is our hope in these dark days. As we reflect on Our Lady's coming in Medjugorje, this Triumph gives us a hope for the future. We also are being invited to be part of that Triumph, through our response to her call:
"Dear children! Today in a special way I invite you all to prayer and renunciation. For now as never before satan wants to show the world his shameful face by which he wants to seduce as many people as possible onto the way of death and sin. Therefore, dear children, help my Immaculate Heart to triumph in the sinful world. I beseech all of you to offer prayers and sacrifices for my intentions so I can present them to God for what is most necessary. Forget your desires, dear children, and pray for what God desires, and not for what you desire. Thank you for having responded to my call."(September 25, 1991)
May we respond with all our hearts to Our Lady's plea! Let us pray for the Triumph of the Immaculate Heart of Mary:
The Annunciation
"Dear children! Also in this difficult time God's love sends me to you. My children, do not be afraid, I am with you. With complete trust give me your hearts that I may help you to recognize the signs of the time in which you live. I will help you to come to know the love of my Son. I will triumph through you. Thank you."(June 2, 2007)
The Visitation
"Dear children; Today I call you to a humble, my children, humble devotion. Your hearts need to be just. May your crosses be your means in the battle against the sins of the present time. May your weapon be patience and boundless love, a love that knows to wait and which will make you capable of recognizing God's signs, that your life, by humble love, may show the truth to all those who seek it in the darkness of lies. My children, my apostles, help me to open the paths to my Son. Once again I call you to pray for your shepherds. Alongside them, I will triumph. Thank you."(October 2, 2010)
The Birth of Jesus
"Dear children! I come to you as a Mother with gifts. I come with love and mercy. Dear children, mine is a big heart. In it, I desire all of your hearts, purified by fasting and prayer. I desire that, through love, our hearts may triumph together. I desire that through that triumph you may see the real Truth, the real Way and the real Life. I desire that you may see my Son. Thank you."(March 18, 2007)
The Presentation
"Dear children, Today, with my motherly heart, I call you gathered around me to love your neighbor. My children, stop. Look in the eyes of your brother and see Jesus, my Son. If you see joy, rejoice with him. If there is pain in the eyes of your brother, with your tenderness and goodness, cast it away, because without love you are lost. Only love is effective; it works miracles. Love will give you unity in my Son and the victory of my heart. Therefore, my children, love."(September 2, 2008)
The Finding in the Temple
"Dear children, only a pure and an open heart will make it such that you may truly come to know my Son and that all those who do not know His love may come to know it through you. Only love will make you comprehend that it is stronger than death because true love conquered death and made it so that death not exist. My children, forgiveness is the most exalted form of love. You, as apostles of my love, must pray that you be strong in spirit and that you could comprehend and forgive. You, apostles of my love, by understanding and forgiveness, are giving an example of love and mercy. To be able to comprehend and forgive is a gift for which it is necessary to pray, and to nurture it. By forgiveness you are showing that you know how to love. Just look, my children, how the Heavenly Father loves you with a great love, with understanding, forgiveness and justice – how He gives me, the Mother of your hearts, to you. And here I am among you to bless you with a motherly blessing, to call you to prayer, to fasting – to tell you to believe, to hope, to forgive, to pray for your shepherds, and above all to love without limits. My children, follow me. My way is the way of peace and love, the way of my Son. It is the way that leads to the triumph of my heart. Thank you."  (June 02, 2019)
Let us pray that through our "yes" to Our Lady and our desire for love to win in the world, we will help Our Lady's Immaculate Heart to Triumph in our world now!!
Dear Mother Mary, we gather together to pray this novena, with deep gratitude for your presence in our midst. You have come to show us the way to heaven. The Heavenly Father has sent you to us to help us to repent and return to Him. You are coming to be the bond between us and the Heavenly Father, and to help us to love and serve His Son. You pray with us for the outpouring of the Holy Spirit, because you have told us that when we have the Holy Spirit, we have everything. Therefore we ask that during this Novena you will help us to bond with you and through you with our Triune God who loves us so much. We ask that every grace can be poured out upon our shepherds, especially Pope Francis, during these nine days that they will be strengthened and purified for the days ahead, these most triumphant days of the Triumph of your Immaculate Heart! Thank you, dearest Mother!!!
Thank you for praying this novena with us!  I believe we have prepared our hearts for the graces that Our Lady will pour out upon us on June 25!  Let's remain in prayer and hope!  God bless you all!
In Jesus, Mary and Joseph!
Cathy Nolan
©Mary TV 2020