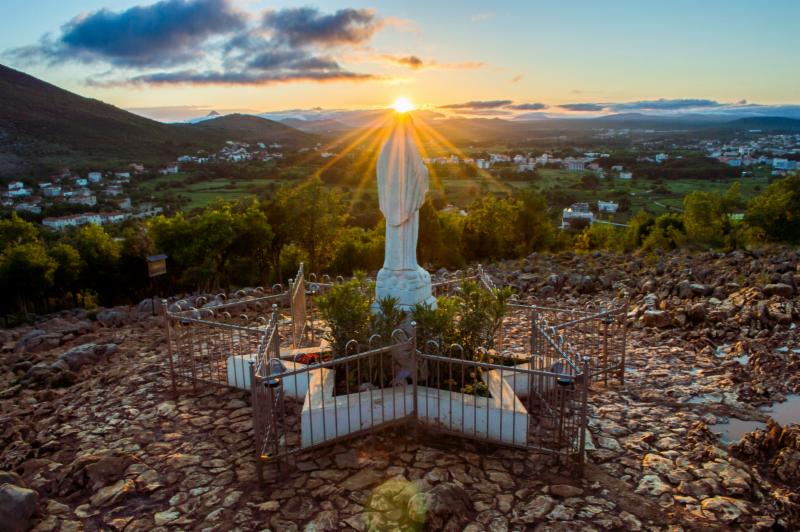 Thank you, dear Gospa, for your presence in Medjugorje!!
"My children, listen to me, I speak for your salvation!" March 18, 2016, to Mirjana
"Dear Children! Again today in a special way I want to invite you to live my messages. Dear children, do not just speak about my messages but live my messages. Be my living sign, a sign of my presence here and irradiate others with your presence here. Pray dear children through this time more. Pray together with me for my intentions. Follow me, dear children, live my messages. Fear not, I am with you and intercede for all of you before my Son. Thank you, dear children, also today, for having responded to my call." August 26, 2016, to Ivan on Mt. Podbrdo
August 29, 2016
Dear Family of Mary TV,
We're grateful for your donations. Our Lady must be grateful too. MaryTV's LIVE connection with Medjugorje, that your generosity is making possible, allows her children around the world to be there with her – to be radiated by her presence there.
On July 2, 2016 she couldn't have made any clearer the importance of her presence:
"Dear children, my real, living presence among you should make you happy because this is the great love of my Son. He is sending me among you so that, with a motherly love, I may grant you safety!"
And she couldn't have made any clearer the importance of our being present there with her!
"My Son promised me that evil will never win because you, the souls of the just, are here!" (Nov 2, 2014).
Though right now the donation thermometer isn't at the top of MaryTV's web page, www.marytv.tv , we still hope to reach one thousand monthly donors… As of today we have 346 monthly donors (and a total of 765 donors since the beginning of 2016). Your response is incredible!
"Pray for peace. Pray with the heart, little children, and do not lose hope because God loves His creatures. He desires to save you, one by one, through my coming here," (March 25, 2003). Please continue supporting MaryTV financially – and please spread our appeal. We need to increase our donor base. *
I used to turn to Mother Teresa a lot back in the early 90's. (She once picked up the phone when I happened to call Calcutta) …. In the last letter that I received from her she wrote: "Thank you for your kind letter of 4-4-92. I am afraid I will not be able to come for the National Conference, due to my health – though I will be with you with my prayers. We are all praying one hail Mary before Holy Mass to Our Lady of Medjugorje!" (She had written to me earlier that she would gladly come and speak at the National Conference on Medjugorje at the University of Notre Dame – if her health permitted.)
We should expect powerful intercession through the prayers of Saint Mother Teresa of Calcutta when she is canonized this Sunday (September 4, 2016).
Cathy shared a beautiful prayer to Blessed Mother Teresa of Calcutta in her reflection for today. Please pray it with me for the intention I've inserted:
Blessed Teresa of Calcutta, you allowed the thirsting love of Jesus on the Cross to become a living flame within you, and so became the light of His love to all. Obtain from the Heart of Jesus (here make the following request: "that Mary TV receives all the money it needs to move forward for Our Lady according to her plans – during these great days of her mission for the salvation of the world.")
Teach me to allow Jesus to penetrate and possess my whole being so completely that my life, too, may radiate His light and love to others. Amen.
Immaculate Heart of Mary, Cause of Our Joy, pray for me.
Blessed Teresa of Calcutta, pray for me.
Thank you and God bless you!
Denis Nolan
MaryTV.tv
PS. We will be streaming Mirjana's September 2nd apparition from Medjugorje…. keep tuned in to www.marytv.tv for any last minute information….
PPS. Here are the links for donating to Mary TV:
PayPal Donation Link
Vanco Services Donation Link
And checks can be sent to this address:
Mary TV
P.O. Box 899
Notre Dame, IN 46556
(Make checks payable to "Mary TV")
Thank you so much and God bless you!
MISSION STATEMENT: MARY TV is a lay apostolate founded to put at the Gospa's service (Our Lady's service) modern communication technologies to bring her presence in Medjugorje – and her school in Medjugorje – to the world.
"Medjugorje is the spiritual center of the world."
Saint John Paul II
Be connected!
www.marytv.tv