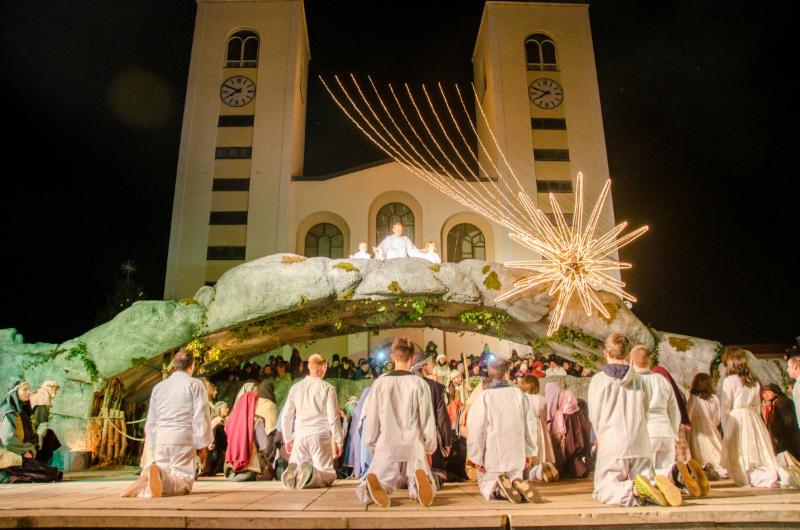 The Cenacolo Christmas Play!
(c)Mateo Ivankovic 2016
J.M.J.
December 24, 2016
Christmas Eve
Dear Family of Mary!
On the eve of the great feast of Christmas, as we await the birth of our Savior, may we all take time in silence to welcome Him into our hearts.
I have gathered a few Christmas messages from Our Lady over the years. They are beautiful. May we open our hearts to Our Lady's words, given to us out of love and by the Father's design.
We at Mary TV pray that you will all be wrapped in Our Lady's mantle of love this night and that the Blessed Infant will gaze upon you in wonder and joy. He comes to save us from our sins. We are filled with joy!
December 25, 1988 "Dear children! I call you to peace. Live it in your heart and all around you, so that all will know peace, peace that does not come from you but from God. Little children, today is a great day. Rejoice with me. Glorify the Nativity of Jesus through the peace that I give you. It is for this peace that I have come as your Mother, Queen of Peace. Today I give you my special blessing. Bring it to all creation, so that all creation will know peace. Thank you for having responded to my call."
December 25, 1992 "Dear children! I desire to place all of you under my mantle and protect you from all satanic attacks. Today is a day of peace, but in the whole world there is a great lack of peace. That is why I call you all to build a new world of peace with me through prayer. This I cannot do without you, and this is why I call all of you with my motherly love and God will do the rest. So, open yourselves to God's plan and to His designs to be able to cooperate with Him for peace and for everything that is good. Do not forget that your life does not belong to you, but is a gift with which you must bring joy to others and lead them to eternal life. May the tenderness of the little Jesus always accompany you. Thank you for having responded to my call."
December 25, 1994 "Dear children! Today I rejoice with you and I am praying with you for peace: peace in your hearts, peace in your families, peace in your desires, peace in the whole world. May the King of Peace bless you today and give your peace. I bless you and I carry each one of your in my heart. Thank you for having responded to my call."
December 25, 1999 "Dear children! This is the time of grace. Little children, today in a special way with little Jesus, whom I hold in my embrace, I am giving you the possibility to decide for peace. Through your 'yes' for peace and your decision for God, a new possibility for peace is opened. Only in this way, little children, this century will be for you a time of peace and well-being. Therefore, put little newborn Jesus in the first place in your life and He will lead you on the way of salvation. Thank you for having responded to my call."
December 25, 2012 Our Lady came with little Jesus in her arms and she did not give a message, but little Jesus began to speak and said: "I am your peace, live my commandments." With a sign of the cross, Our Lady and little Jesus blessed us together.
December 25, 2013 "Dear children! I am carrying to you the King of Peace that He may give you His peace. You, little children, pray, pray, pray. The fruit of prayer will be seen on the faces of the people who have decided for God and His Kingdom. I, with my Son Jesus, bless you all with a blessing of peace. Thank you for having responded to my call."
We will send out the Christmas Message as soon as we can on Christmas Day!!
In Jesus, Mary and Joseph!
Cathy Nolan (and the whole Mary TV team!)
©Mary TV 2016